Architecture Australia, March 2015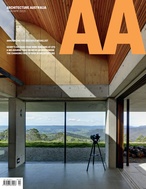 March 2015 (Issue 2)

An introduction to the March/April 2015 issue of Architecture Australia.

Johnson Pilton Walker revives a monumental building in one of Sydney's most significant civic spaces.

While critics have laid into Frank Gehry's UTS Business School for being image-conscious, Jennifer Calzini finds a building more than meets the eye.

The vision of Luis Barragán's protégé Andrés Casillas is brought to fruition by Evolva Architects in this intriguing denizen of suburban Melbourne.

Singapore-based Australian architect Justin Hill talks about how the Island City's relationship with architecture has evolved since he first arrived in the 1980s.