Architecture Australia, January 2016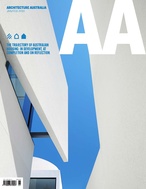 January 2016 (Issue 1)

A survey of Kerstin Thompson Architects' house typologies conducted by the practice presents some design considerations for the single house of the future.

Debbie Ryan of McBride Charles Ryan reflects on the practice's ambitious self-initiated apartment project in the inner Melbourne suburb of Prahran, fifteen years after its completion.

Architect Brit Andresen reflects on her practice's design for four dwellings within a shared territory in Moreton Bay, Queensland, completed in 2001.

Architect Adrian Iredale reflects on Iredale Pedersen Hook Architects' transitional housing project, which encourages home ownership for Indigenous families in Kununurra, Western Australia.