Architecture Australia, November 2016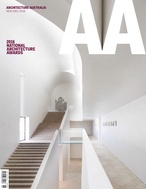 November 2016 (Vol 105 No 6)

An introduction to the November/December 2016 issue of Architecture Australia.

Suzie Attiwill reviews Sitelines, a recent exhibition of spatial and interactive artworks by Natasha Johns-Messenger on show at Heide Museum of Modern Art.

Patrick Keane reviews the 2016 Venice Biennale through a digital lens, discussing projects that embrace the digital Zeitgeist within an exhibition that seemingly focuses on analog practice.

Romaldo Giurgola, architect of Parliament House in Canberra, played a seminal role in nation-building, making an outstanding contribution to Australia's architectural heritage.

Phil Harris remembers Paul Pholeros, founding director of Healthabitat and a driving force behind a number of seminal guides for housing construction in remote Australia.