Architecture Australia, January 2017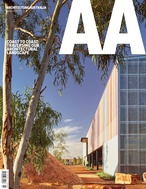 January 2017 (Issue 1)

An introduction to the January/February 2017 issue of Architecture Australia.

Lee-Anne Khor speaks with four architects about the role of architecture in delivering affordable and accessible housing, and the diverse and complex challenges inherent to the processes.

Andrea Sharam looks at the "deliberative" development model and the financial barriers that can prevent it from flourishing, sharing architect-designed Australian examples spanning three decades.

Collaboration and social value are driving forces for Melbourne practice Croxon Ramsay, which, over a decade, has built a reputation for innovative civic design.

The recent Occupied exhibition at RMIT University's Design Hub speculated on the spatial and material challenges facing cities.

Intergrain finishes have been used to outstanding effect in this handcrafted, timber-clad interior by Bates Smart, designed as a compelling yet tranquil workplace for an architectural physicist.

The second iteration of the NGV Architecture Commission, Haven't You Always Wanted …? by M@ Studio Architects, explores dematerialization and the expression of the civic in Melbourne's future outer suburbs.