Architecture Australia, September 2017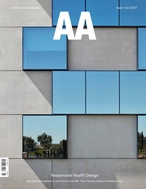 September 2017 (Issue 5)

An introduction to the September/October 2017 issue of Architecture Australia.

Drawing from mythological and alchemic themes, Carr has curated a sybaritic hotel experience, defined by elemental and evocative materials that celebrate the regional qualities of Victoria's Mornington Peninsula.

On a highly conspicuous site on Sydney's North Bondi beach, Sam Crawford Architects with Lymesmith has artfully integrated a wealth of amenity for beachgoers into this small public building.

Underpinned by the ethos and architectural language of the Sunshine Coast, this new hospital by Architectus and HDR is a robust response to operational and climatic requirements.