Architecture Australia, July 2018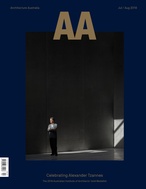 July 2018 (Issue 4)

The discipline and practice of architecture: An introduction to the July/August 2018 issue of Architecture Australia.

Working within tight budgetary constraints, Bark Design Architects' Curra Community Hall elegantly reinterprets a regional typology to create a flexible and memorable space for a small rural community.

The Beehive, designed by Raffaello Rosselli Architect with Luigi Rosselli Architects, is a poetic exploration of the aesthetic and structural potential of recycled materials as applied to the design of this architectural family's own Surry Hills studio.

Dissolving the distinction between inside and out, architecture and landscape, Rose House 2 in Melbourne's Fitzroy North builds on Baracco and Wright Architects' well-established, reparative approach to site, context and ecology.