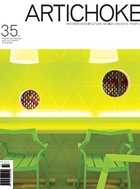 June 2011 (Issue 35)

The latest design products from Artichoke.

The best of South Australian design was celebrated at the Laminex Group DIA SA Design Awards in Adelaide in November 2010.

Buenos Aires has a new sensation called Urban Station – a communal workspace rented by the hour to mobile professionals.

A collection of more than fifteen essays by design thinkers edited by Alison J. Clarke.

This book is a collection of projects from around the world, saluting that recognizable and disposable material – cardboard.

Sabine Seymour's book delves into the next generation of wearable, functional and state-of-the-art design.

Following his $100 laptop and glasses project for Mexican kids, Yves Béhar brings the same design principles to the new SAYL chair.

What makes a design studio tick? Artichoke magazine asks Joel Sampson, interior designer in the Hassell Sydney studio.