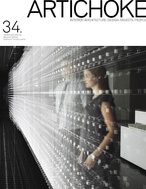 March 2011 (Issue 34)

Oliver Kratzer's introduction to the March 2011 issue of Artichoke – his first as national president of the DIA.

Artichoke editor Penny Craswell lists her favourite products.

Interior designers Olivia Shih and Yoshihito Kashiwagi are Facet Studio, based in Sydney and Osaka.

An interview with architects Olivia Shih and Yoshihito Kashiwagi of Sydney/Osaka-based Facet Studio.

Fun, floaty and a little bit vintage, Fleur Wood's signature approach to fashion served as the starting point for this store.