Artichoke, September 2011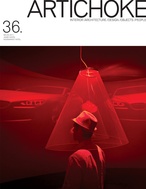 September 2011 (Issue 36)
I'm angry … I'm very, very angry. On TV last night was a minor celebrity spouting inoffensively about the topic at hand and there, on the …

The editor's favourite products from Artichoke 36.

What makes the work of Spanish designer Jaime Hayón so distinctive? We posit some theories after meeting him in Milan.

Experimental with forms and materials, these Brazilian designers owe much to their collaboration with Edra.

Boontje talks about how sewing and embroidery inspired his chair, stool and light for Moroso – Stitched.

In only its second year, Ventura Lambrate is gaining momentum as destination for emerging and cutting-edge design.

Ryan Russell's designs for four new Crumpler store interiors use materials from the Crumpler bags in unexpected ways.

What makes a design studio tick? We ask Vince Frost from Frost Design.