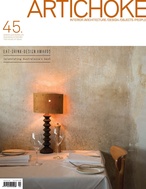 December 2013 (Issue 45)

Celebrating the Eat-Drink-Design Awards results The image on this issue's cover captures an elegant dining setting at the iconic Cafe Di Stasio, a Melbourne restaurant …

Michael Lavery, Bill Dowzer and Sheona Thomson on designing of learning spaces of the future.

Clemenger BBDO's office by Hassell is a modern ad creative's workplace/playground.

Davenport Campbell (interiors) and graphic agency Frost Design make a vibrant Melbourne workplace.

Brisbane's Arrow Energy offices by Geyer are open and flexible for collaboration.

Artist Rosslynd Piggott's work at The Johnston Collection, Melbourne.

A Design Speaks forum for Australasia's most influential workplace design practitioners.

Tobias Horrocks delves into the chequered history of a Melbourne icon.