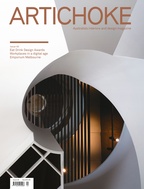 December 2014 (Issue 49)

An introduction to the December 2014 issue.

Carr Design Group re-design both the architecture and the interiors of Australia Post's Sydney HQ, totally transforming it.

Designed by Bates Smart, this new Melbourne workplace for creative agency CHE Proximity is textured and personable, encouraging staff to interact and share ideas.

Emporium Melbourne is in some ways a model of classic retail planning, but in other ways it turns this model on its head.

Held in Brisbane, Artichoke Night School session fifteen asked three creatives that vexing but intriguing question – what inspires you?