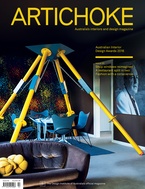 June 2016 (Issue 55)

An introduction to the June 2016 issue.

In Melbourne, Architects EAT has converted a shopping centre tenancy into a spot for destination dining that offers a two-sided experience.

Tandem Design Studio has given sheepskin company Yellow Earth's flagship store at Emporium Melbourne an expressive and tactile "shop window."

Held in Melbourne, Artichoke Night School session 20 looked at retail design that works.