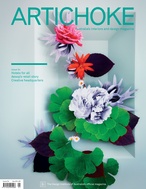 March 2016 (Issue 54)

An introduction to the March 2016 issue.

Held in Sydney, Artichoke Night School session 19 looked at the value of hotel design.

Renowned Dutch jewellery and industrial designer Gijs Bakker has a career that spans more than fifty years and a body of work with an amorphous design ethic.

The design of brick-and-mortar stores is an ever-changing process. Skincare company Aesop has used branding, sophisticated e-tailing and the in-store experience to build a formidable brand name.