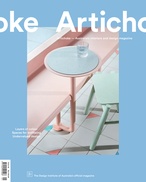 March 2018 (Issue 62)

An introduction to the March 2018 issue.

The sturdy blockwork and steel-framed windows of this mid-century industrial building in Melbourne give little clue to its rich history, but Wolveridge Architects has celebrated its past in a reimagined coworking space.

In the shadow of the world's tallest tower and concealed within the Dubai Opera performing arts centre, Alexander & Co with Tribe Studio Architects has designed a hidden treasure befitting of a city that does not do things by halves.

Neighbouring the serious Ernst and Young tower in Melbourne's CBD, Vacation Cafe designed by Therefore occupies the streetscape like a kid in a rainbow parachute jacket among a sea of suits. It exudes a relaxed playfulness laced with eighties childhood nostalgia.