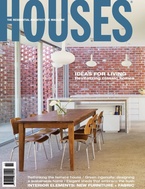 April 2010 (Issue 73)

A comprehensive volume of the work by architectural firm Architectus.
Climate Design aims to unpack all the issues relating to a deep sustainability.

Melbourne of the 1950s was a city of possibility and Strizic's images capture this collision of the old world and the new.

What happens when housing developers start thinking green?

An exhibition explores the role of materials in architecture and how these elements contribute to sustainable housing types.

Occupied by the same family for four generations, this Victorian cottage boasts a new rear extension by AIGP.

In five years, Britain's Established & Sons has gained a solid footing as the go-to guys for edgy design.

Michael Banney and Michael Lavery of m3architecture answer the question, What is it about houses that makes us feel?

A project with a seemingly simple premise: for Australian property owners to help those in the world's poorest countries.