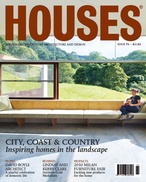 August 2010 (Issue 75)

From his NSW Central Coast studio, David Boyle Architect designs playful, individual houses that celebrate domestic life.

A shed-shack material sensibility with a craftsman's eye for detail.

The latest addition to Taschen's Basic Architecture Series, which profiles a selection of architectural greats.

In a world of standardized commodities, the demand for unique pieces of designer furniture is steadily increasing

The first in a series on contemporary interiors in various cultures around the world.

A case study in sustainable design and sustainable living: Environa Studio's Courtyard House.

Curated by Form, 11.12 is the first solo exhibition by Jon Goulder. Exquisite craftmanship is demonstrated in this range of limited edition pieces.

Challenging the assumption that the home is a private entity, Lyons combines public museum and private house.

An Alvar Aalto-inspired home in Queensland by Clare Design.

A curious showcase by Herzog and de Meuron, for the Vitra residential furniture collection in Germany.