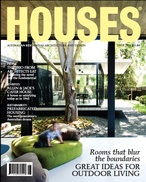 October 2010 (Issue 76)

Albert Mo, Eid K. Goh and James Coombe have an expanding folio of individualized homes.

The Australian dream of home ownership has not traditionally embraced prefabricated housing, but could the move toward sustainability change that?

ARKit has developed a sustainable prefabricated wall-panel system which is economical and quick to work with.

A collection of products designed by Daniel To and Emma Aiston created from subtle, simple shapes.

A Russell Jack expression of Sydney Regional style in Canberra.

Elegant and refined projects finished with a range of classic, sculptural and textured products.