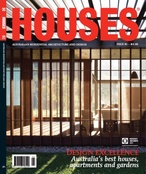 August 2011 (Issue 81)

With a passionate pursuit of architectural ideas, Neeson Murcutt explores the renewal and transformation of urban patterns.

Neeson Murcutt is particularly interested in the way in which a material might tell the story of the site or client.

This book is a collection of projects from around the world, saluting that recognizable and disposable material – cardboard.

This book looks at the evolution of the traditional British country house since the 17th century and into the 21st century.

BEDMaR & SHi: 5 in Five chronicles five houses designed by Argentinian-born founder of the Singapore-based Bedmar & Shi.
Patrick Bingham-Hall's book looks at the Asia Pacific region's response to issues such as global warming and over-population.

Celebrating fifty years in 2011, the Milan Furniture Fair launches the best in international design.

The latest bathroom products from Houses.

Atelier Oï uses exploration, play, teamwork and a passion for materials to create elegant and gracefully moving objects.

Toby Horrocks has created adaptable furniture suitable for both residential and commercial applications.

The Mornington Peninsula Regional Gallery held an exhibition in early 2011 tracing the history of Chancellor and Patrick.

Harry and Penelope Seidler's family home in Killara.

Shigeru Ban teams up with Jean de Gastines to create an atmospheric paper pavilion for Hermès in Milan.