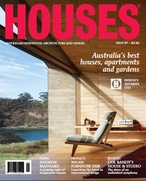 August 2012 (Issue 87)

Energetic and inventive projects responding to client and context with humour and wit.

Products, textures and finishes chosen by Andrew Maynard Architects to help bring imaginative ideas to life.

Houses magazine's favourites from the 2012 Milan Furniture Fair.

Architect-builder Col Bandy's unfinished symphony.

A student project by Chris Mullaney: rethinking a backyard chicken coup in the town of Stroud, NSW.