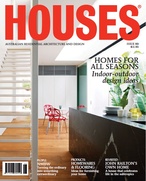 December 2012 (Issue 89)

Each residential project by NMBW Architecture Studio turns the ordinary into something special.

The Melbourne-based studio makes prosaic spaces from a pragmatic palette of plywood, bluestone, brick and concrete block.

From humble beginnings, two Melbourne brothers start a bespoke furniture and design practice.

Hand-made Austrian furniture and cabinetry from sustainably grown hardwood.

A holistic approach always informed the work of David Hicks, this ethos can now be seen in a new collection of rugs and sofas.

Tzannes Associates revisits Henwood House, the practice's first project from 1988.

Flooring selections from Houses 89.

Queensland architect John Railton's Brisbane home and office.

A brilliant landscape device by Baracco + Wright Architects solves a suburban privacy issue.