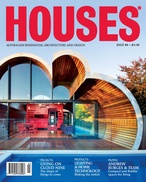 June 2012 (Issue 86)

Expression of scale, compactness and flexible space characterize the residential work of this Sydney practice.

Combinations of stone, timber and concrete define the work of this practice.

Curvaceous fittings and furniture from Houses 86.


Furniture designer Sean Dix creates takes inspiration globally and gives each of his pieces a distinct and layered character.

Melbourne lighting designer Christopher Boots creates pendants drawn from geometry, science and nature.

Bellemo and Cat revisits Cocoon House, the practice's first project from 2001.

John Dalton's final project project in Queensland.

Shane Thompson turns an old timber church into a working studio on his semi-rural Queensland property.

An installation in Sydney's Surry Hills explores new ways of using urban space for the benefit of locals.