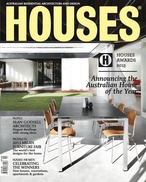 August 2013 (Issue 93)

I think you'll enjoy this latest issue of Houses – we certainly enjoyed putting it together! It announces the winners and commendations in our third …

Houses profiles the singular, steely residential work of architect Sean Godsell.

A beach house by Rosevear Architects provides a platform from which to appreciate the views.

A Victorian terrace in Sydney's east extended and reconfigured by Fearns Studio.

A playful addition by Andrew Maynard Architects to a pair of inner-city terraces.

Robin Boyd's only Sydney house — an elevated courtyard home.

Melbourne's Insider/Outsider brings an unused industrial doorway in Abbotsford to life.