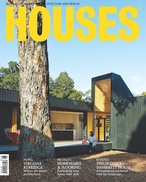 December 2013 (Issue 95)

In this day and age, not everyone aspires to the great Australian dream of a stand-alone house on a quarter-acre block. More and more people …

The work of Sydney-based architect Virginia Kerridge is a hybrid of art and architecture.

Materials and finishes, often recycled, gives an expressive quality to the spaces created.

Retrospective of a mid-twentieth century visionary.

Distinctive furniture and lighting by Melbourne-based Kate Stokes of Coco Flip.

Handprinted on hemp and linen, Cloth Fabric designs are drawn from the Australian bush.
BKK Architects revisits 2-Parts House, the practice's first project from 2003.

An early 1980s homestead by Philip Cox remains emblematic of the architect's view.

Artist Leandro Erlich's playful exploration of domestic architecture.