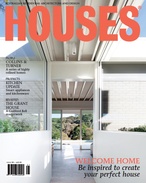 February 2013 (Issue 90)

A house is more than a shelter or place of refuge that protects its inhabitants from the elements. The most rewarding houses provide this protection, …

Maitiú Ward profiles the body of work by Huw Turner and Penny Collins.

Sydney-based Collins and Turner Architects' refined residential projects are made from carefully selected materials and finishes.

Designer Adam Cruickshank embraces manufacturing technologies in creating his series of sensuous designs.

Furniture and lighting inspired by natural beauty, nostalgia and traditional craft.

MCK Architects revisits House for Art Collectors, the practice's first project from 2000.

A travelling exhibition by contemporary art duo Claire Healy & Sean Cordeiro, focused on concepts of home.

An exhibition of drawings, models and images of significant homes by twelve established Australian architecture practices.

A later work by Guilford Bell that sums up the aspirations of a grand career.

Freya Lombardo looks at the 2012 Sculpture by the Sea Bondi, as entries open for the 2013 edition.