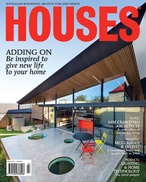 June 2013 (Issue 92)

Some of the most interesting residential projects are alterations and additions, where a new layer of history is added to a house. And in terms …

The Sydney-based practice making a mark for tactile and engaging residential projects.

Tactile materials in the houses by Sam Crawford Architects are integral to its body of work.

Melbourne-based industrial designer Ash Allen combines the machined with the handmade.
Richard Kirk Architect revisits Hawthorne Residence, the practice's first project from 2003.

McGlashan and Everist's enduring design for a Hobart house.