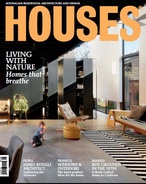 October 2013 (Issue 94)

In an outdoor room, we can enjoy being outside while still protected from the weather. Often integrated into contemporary Australian homes, outdoor rooms differ from …

Brisbane-based architect James Russell takes the idea of a breathing building to a new level.

A connection to the outdoors through the use of durable materials.

Exploring the distinctive residential work of Denton Corker Marshall.

A richly illustrated monograph brings together more than thirty years of architectural work.

A series of Le Corbusier designs, redrawn using CAD.

Furniture design graduates David Houbaer and Alec Balcombe launched Dhab Studios.

The "minimal-artisanal" furniture designs of Craig Bassam and Scott Fellows.

A sixteenth-century Italian attic restored by Perth studio SODAA and local studio, MQAA.

Roy Grounds' highly crafted Canberra house for Sir Otto and Lady Margaret Frankel.

A conversation about working from home kick-started ArchiBlox's affordable prefabricated structure.