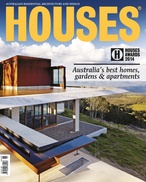 August 2014 (Issue 99)

Introduction to Houses 99.

Wolveridge Architects' series of elegant and beautifully detailed homes.

The use of rustic materials is in juxtaposition with luxurious and glossy textures in the work of Wolveridge Architects.

New Zealand design company Resident follows the 'think local, act global' approach to production.

An elegant and sophisticated living pavilion in the Southern Highlands of New South Wales by Benn and Penna Architecture.