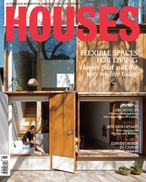 February 2014 (Issue 96)

Architects and designers often design houses as a canvas for inhabitation. They provide the framework and opportunities, but how this transition of house into home …

The residential work of Melbourne- and Hobart-based Room 11 Architects in profile.

A collection of beautiful everyday objects by Australian designers, with manufacturers Axolotl and Evostyle.

The prolific product design studio of Italy's Ferruccio Laviani.

Carterwilliamson Architects revisits Punch Street House, the practice's first project.

Los Angeles County Museum of Art presents a major study of Californian mid-century design.

Maverick architect Eddie Oribin's Queensland home is enjoying a renaissance.