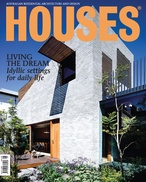 October 2014 (Issue 100)

Introduction to Houses 100.

Charles Wright Architects suggests a new way of living in the tropics.

Charles Wright Architects responds to the cyclonic conditions of Far North Queensland when selecting materials.

Melbourne studio Porcelain Bear hand-makes evocative designs that spark imagination.

A hidden gem of mid-century Australian modernism: Clerehan House II by Neil Clerehan Architect.