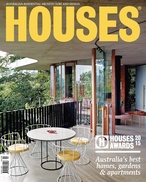 August 2015 (Issue 105)

Introduction to Houses 105.

The residential work by 1+2 Architecture is honest, clever and spatially rich.

Allan Powell's distinctive St Kilda home, that "reveals a Palladian strand in its lineage … a structure designed to host parties."

Melbourne filmmaker Jeremy Beasley has produced a moving feature-length documentary about the tiny house movement.