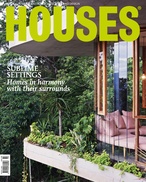 June 2015 (Issue 104)

Introduction to Houses 104.

Adrian Iredale of Iredale Pedersen Hook reflects on the practice's first project, a house that expresses "the youthful sense of pursuing an untested path."

Architect Gerry Rippon's 1969 house for himself and his family combines the refinement a Zen tea house with a masterful orchestration of spatial sequence.

With a clever and unpretentious use of natural light, Sam Crawford Architects create a "fairytale ending" for a dilapidated 1870s timber cottage in Woollahra, Sydney.