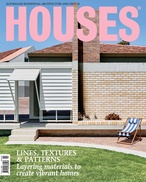 April 2016 (Issue 109)

Introduction to Houses 109

Rosevear Stephenson Architects carefully stitches together the qualities of the site and the desires of the client to create honest and elemental houses.

Architect Clinton Murray's first residential commission all started with a handwritten letter from Europe.

Designed as a country retreat, this environmentally sustainable home is a curious fusion of a vernacular barn-like aesthetic and a modern architectural language.