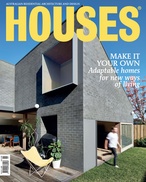 February 2016 (Issue 108)
Introduction to Houses 108

The thoughtful body of residential work by Matt Gibson Architecture and Design demonstrates an enthusiastic and rigorous approach to the dualism inherent in many projects.

Ian Moore cleverly transformed this home into two apartments, reconfiguring the layout and making the most of unused space.

The furniture and products by designer Alfredo Häberli are an expression of the joy of living.

Teaming reductive simplicity in section with an irregular floor plan that responds to the bushland setting, this home is still an instructive source of delight thirty-five years after completion.