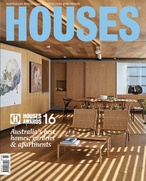 July 2016 (Issue 111)

Introduction to Houses 111.

A look at the recent built projects of Melbourne studio Edwards Moore reveals a delightful body of work underpinned by conceptual rigour, spatial complexity and a "cheeky tilt."

This early 1970s structure holds a commanding presence on its sloped site, demonstrating skilful choreography of the experience of arrival and considered layering of horizontal and vertical planes.

More than a space for practising yoga, this clever little pavilion by Folk Architects is also a reminder of the value of nature and a nod to the heritage of the home it's tucked behind.