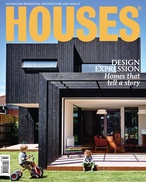 June 2016 (Issue 110)

Introduction to Houses 110

Skilled in unravelling complex issues, Nobbs Radford Architects creates homes that explore raw materials, bold forms and new ideas.

Architects EAT co-director Albert Mo reflects on the practice's first residential project, which transformed a rundown house that "no-one wanted."

Designed in 1955 by Chancellor & Patrick for Gerald and Ellen McCraith as a holiday house, this home captures the optimism of Australian beach culture at the time.

Held at the TarraWarra Museum of Art in Victoria's Healesville, a retrospective of Howard Arkley's iconic paintings and inspirations gave insight into his exploration of suburban Australia.