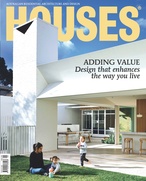 October 2016 (Issue 112)

Introduction to Houses 112.

With a solid technical grounding and a "brilliant nuance in mixing old and new," Eva-Marie Prineas creates generous and pertinent projects with authenticity.

Responding to a brief that included the request, "I don't want to be an architectural victim," Michael Banney and Michael Christensen used a healthy mix of self-doubt, excitement and earnestness to create Hamilton House, one of their first projects.

Designed in 1974, this climate-responsive, twelve-sided home in the Brisbane bush combines a sophisticated design concept with a structural system of exceptional economy.

Using conceptual thinking and highly crafted multifunctional joinery, design practice Catseye Bay has reshaped a diminutive studio into a generous one-bedroom living space.