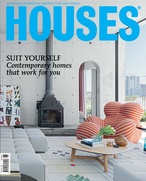 December 2017 (Issue 119)

Introduction to Houses 119.

With each new project, Louise Wright and Mauro Baracco of Baracco and Wright Architects aim to contribute to the broader urban ecology of a place.

Australia's architectural scene is brimming with new talent. Linda Cheng chats with the young designers who make up Trias, a small emerging practice with big plans for the future.

Balancing a sense of solidity with a contrasting spatial lightness, this 1960s house is indicative of the enduring relevance of architect Peter Heathwood.