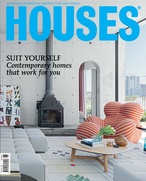 December 2017 (Issue 119)

Introduction to Houses 119.

With each new project, Louise Wright and Mauro Baracco of Baracco and Wright Architects aim to contribute to the broader urban ecology of a place.

This apartment, rich in detail and immersed in greenery atop a 1930s factory building in Surry Hills, is an urban oasis that sets an impressive precedent for apartment design.

With a simple, calm form nestled into the dramatic landscape of southern Tasmania, this "forever house" embraces sustainable design principles.

A focus on craft and making provides this radically reconfigured apartment with a sense of warmth and tactile materiality, enhancing its stunning views.