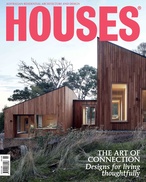 January 2018 (Issue 120)

Introduction to Houses 120.

A series of diverse, textural and dynamic "garden rooms" are the result of a close collaboration between architect and landscape architect and celebrate a life lived outdoors.

A simple pavilion formed from the remnants of an existing shed, this "thrillingly simple" project makes the most of its majestic site.

Built on a long, narrow site in 1985, this meticulously crafted island retreat designed by Ken Woolley blends seamlessly with its environment, while reading as a small village of interconnected buildings and shapes.