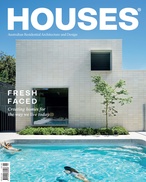 October 2018 (Issue 124)

Introduction to Houses 124.

Despite starting his practice during the Global Financial Crisis, Philip Stejskal has grown his practice to encompass modest alterations and additions to elaborate new houses.

This purposefully recessive, distinctively contemporary alteration and addition to a rundown bungalow by MODO celebrates the house's architectural lineage while providing room for modern living.