Jury citation
West End Tower is a project that celebrates the use of the verandah in vernacular Queensland architecture. Here it has been reinstated and reinvigorated as an open circulation space that wraps around the internal rooms and enlivens the whole house.
The design explores the use of thresholds as spaces to use and linger. In one part of the verandah space, a window seat pops out to frame a view of the garden. In another part the kitchen occupies the whole space, while still allowing access around the building.
The punctuation point of the design is its tower element at the rear, which houses a library area and meeting point – a space for telling stories, reading and performing. This tall element in the backyard is a focal point in the composition of the garden and invites you to take a walk out towards the "new" part of the building.
The material palette is simple: horizontal weatherboards are painted white and screens act as an homage to Queensland vernacular architecture, but the whole composition is put together in such a way as to appear effortless, and sit happily on the site. The garden is a dominant element such that even when inside, you are always aware of the outside.
The addition at West End Tower is an appropriate and evocative response that draws on the traditions of the Queensland house.
Source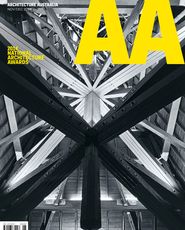 Issue
Architecture Australia, November 2014
Related topics