Jury citation
The recipients of the 2016 Australian Institute of Architects Gold Medal are Stephen Ashton, Howard Raggatt and Ian McDougall, the founding directors of Ashton Raggatt McDougall, better known simply as ARM. This is a practice that has been a genuine leader, influencer, provocateur, culture builder and disseminator of ideas for nearly three decades, and at the core of the practice are three outstanding architects who have created some of the most extraordinary buildings in the short post-colonial history of this country. For some, their work is controversial and contentious, but for Ashton, Raggatt and McDougall this moniker is a badge of honour. For them, architecture itself is contentious and speculative: to be debated, laid open and ultimately affirmed as a cultural contribution. This Gold Medal recognizes their work for what it is: a profound and extended meditation on the nature of architecture and on Australian architecture in particular.
That they have been able to achieve this while also building a highly successful large-scale practice is a testament to the skills of the three founders, who would also be the first to acknowledge the significant contribution of many others within the practice. Theirs is a practice with range, and they have brought their combined and singular intellect to bear on multiple project types: from progressive cultural projects, city-scaled strategic thinking and urban design projects to office buildings, apartments, community projects and shopping centres, no project is deemed unworthy of architectural interest.
Ashton, Raggatt and McDougall's work has had an impact across the national design landscape: in Western Australia with the Perth Arena, in Queensland with the new Gold Coast Cultural Precinct, in Adelaide with major works to the Adelaide Festival Plaza, in Canberra with the National Museum of Australia and most recently in Sydney, where they have been appointed to undertake the refurbishment of the Sydney Opera House Concert Hall – a cultural heartland project if ever there was one. And it is in their home city of Melbourne that one can most fully experience their contribution. A walk down the Swanston Street civic spine might start at the recently completed (and controversial) Barak Building, past Storey Hall at RMIT University (also controversial at the time) and the major redevelopment of the Melbourne Central shopping precinct, to the recent refurbishment of Hamer Hall on the banks of the Yarra River and the extraordinary Melbourne Recital Centre and MTC Southbank Theatre, before finishing at the practice's decade-long reconfiguration of the Shrine of Remembrance.
Outside of their work on commissioned projects, Ashton, Raggatt and McDougall have played an equally significant role as national "culture builders." Through their multiple exhibitions, lectures and contributions to national conferences, they have never shirked a responsibility to publicly explain or proselytize about their design work – or architecture more generally – as a critical cultural endeavour. As an extension of this they have also been erudite teachers, including professorial roles, with a deep commitment to supporting and nurturing the next generation of design thinkers. In addition, their commitment to the profession of architecture is demonstrated by their support of the Australian Institute of Architects – Stephen Ashton and Ian McDougall have both acted as the President of the Victorian Chapter, and the latter has also served an extended period on the National Council.
For an era that seems to have only recently discovered the agency of collaboration, this partnership of three highly talented individuals working together in a joint intellectual pursuit to create extraordinary outcomes is indeed something to be learned from and celebrated. Stephen Ashton, Howard Raggatt and Ian McDougall are exceedingly worthy winners of the 2016 Gold Medal.
Jury
Jon Clements FRAIA (chair) Australian Institute of Architects National President, Jackson Clements Burrows Architects; David Karotkin LFRAIA Australian Institute of Architects Immediate Past President, Sandover Pinder Architects; Alice Hampson FRAIA Alice Hampson Architect; Annabel Lahz RAIA Lahz Nimmo Architects; Professor Carey Lyon LFRAIA Lyons Architecture, School of Architecture and Design, RMIT University
Source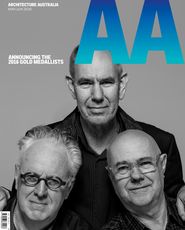 Issue
Architecture Australia, May 2016
Related topics