The Museum of Old and New Art (MONA) has submitted a development application for a new hotel development, to be located north-east of the museum in the Hobart suburb of Berriedale.
The development designed by Fender Katsalidis will include a five-star, 172-room hotel to be known as Motown (formerly HOMO, for "Hotel at Mona"), which will cantilever over the River Derwent with views towards kunanyi / Mt Wellington, Claremont and Otago Bay. The hotel will also have special experience rooms with installations by artists.
The hotel will also contain a conference centre with capacity for up to 1,600 people, a spa designed by artists James Turrell and Marina Abramović and a playground designed by Toshiko MacAdam, Tom Otterness and Daily tous les jours, as well as addition gallery spaces and offices spaces for the MONA staff.
Early designs for the hotel development were unveiled in July 2017. At the time, MONA founder David Walsh said they were inspired by the Golden Gate Bridge in San Francisco, with the building's exterior to be the same colour as the bridge.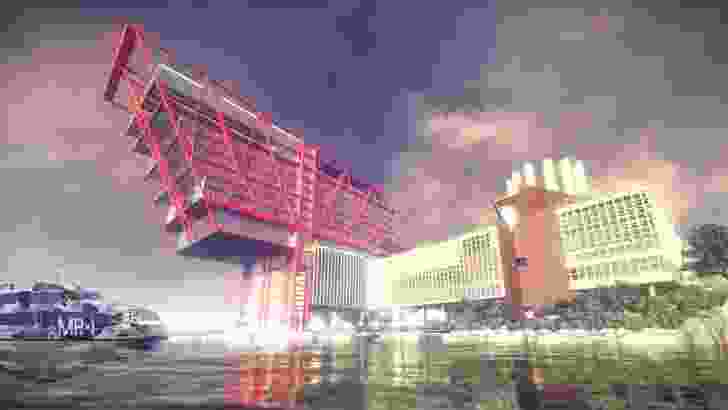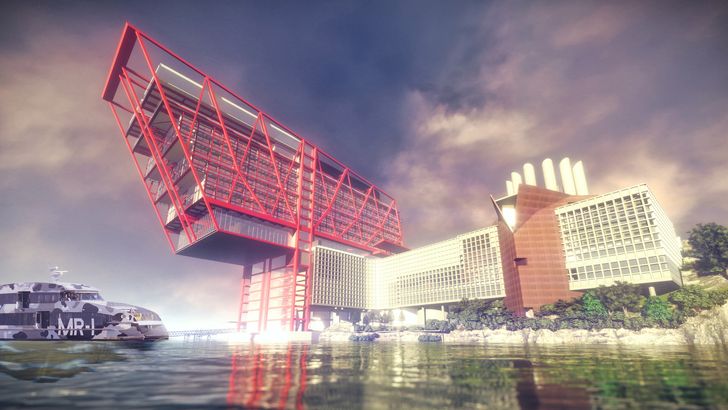 "We wanted an inverted suspension bridge," Walsh said, "but then the value engineers got at it. Now it's a shopping trolley that looks a bit like an inverted suspension bridge.
"Since I presented a preliminary proposal in 2017, a great deal, including the name, has changed. In particular, the facade has been altered to present more harmoniously with the exterior of the museum."
The refreshed design has "emerged through the collective efforts of architect Nonda Katsalidis, David Walsh and others," MONA said in a statement on its website.
The hotel will be suspended over a 1075-seat theatre which will at once make the cantilevering structure buildable as well as provide acoustic isolation for the theatre below. The hotel will be accessed via Venetian-style water taxis.
The centrepiece of the development will be a three-level library to house "David and his mates' collection of books, maps, documents and weird stuff." The collection will include works from Albert Einstein, Isaac Newton, Charles Darwin and Charles Dickens as well as the hand-drawn artwork of Donald Friend.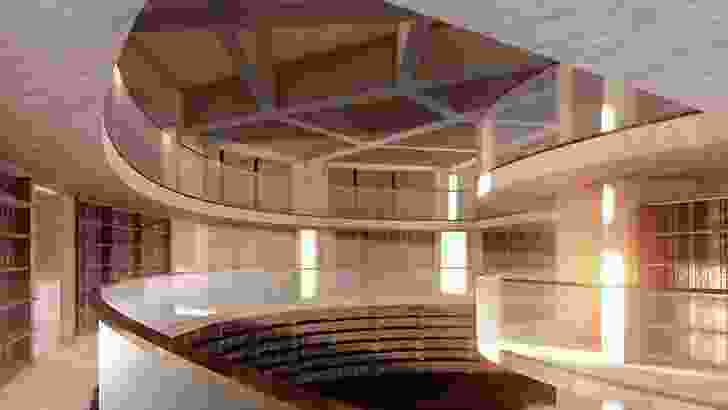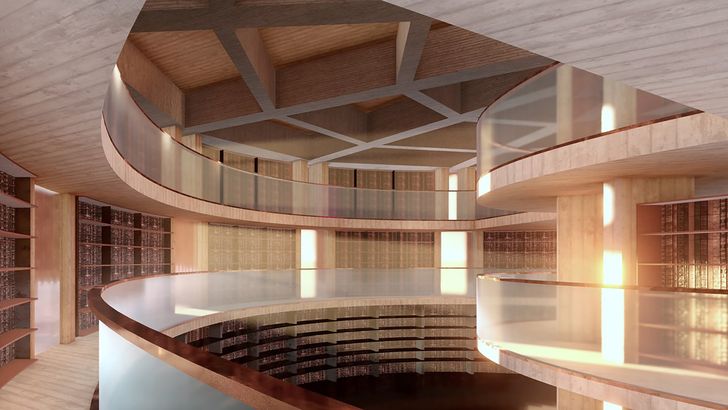 The development is anticipated to cost more than $400 million. "We don't really know when it will open, but maybe in 2024, if we're lucky. Nor are we 100 per cent sure how it will be paid for. The projected spend is currently pushing $400 million, which Walshie claims not to 'have on him right now'. But then again he has claimed that before, and managed to cough up at the crucial moment."
The development application will be assessed by Crown Land Services and the Glenorchy City Council.
MONA is also working on an accommodation and spa and function centre at Marion Bay designed by John Wardle Architects. It has also indicated it wants to take over the nearby Treasure Island Caravan Park in an effort "to offer budget accommodation options." The museum is working with Liminal Studios on the design, however, "there are some issues, though, and we're not sure at this stage that we can work them out.
"Mainly those issues involve negotiations with the neighbouring sewerage treatment plant. Hence the name, HOBO: Hobart odour."