Winning scheme by RJ Ferguson & Associates.
In the Australian Prospectors & Miners Hall of Fame architectural design competition, held in Perth and announced last September, the past, present and future of the mining and prospecting industry were both remembered and anticipated.
Sponsored by Australian Prospectors and Miners Hall of Fame Ltd, the RAIA-supported competition sought schemes for a $15 million museum and exhibition complex at the Hannans North Mining Heritage Precinct, four kilometres north-east of Kalgoorlie, WA.
The project is envisaged by the sponsor to become "a showcase for the mining industry"; performing important social, cultural, educational and tourist accommodation roles and balancing functional flexibility and integrated internal/external spaces with an appropriate response to the existing heritage precinct. It is "to create a facility that represents Australian mining, not just Kalgoorlie gold mining. It is also to represent all facets of the mining industry; past, present, and future".
The Hall of Fame, then, is to deliver an architecture that represents mining. While the competition brief was coloured with the romance of the Australian mining and prospecting tradition, it was also laced with a desire for realism and conceded the contradictions and conflicts that have accompanied the history of the industry in this country. This romantic/realist stance underlies the brief's 'Historical Context' section, where 'geological time', 'social time' and 'individual time' were offered as indicators to the scales of social, cultural, political and economic conditions and experiences which have accompanied modes of mining through time-pre and post European occupation. The romance of the mining past, providing some groups of Australians with nation-binding identity, blends here with hopes for the country's future wealth and prosperity, bound up in technical innovation and resource management.
Not surprisingly, many of the Hall of Fame schemes revive a kind of architectural associationism. On the one hand, romanticism and realism fuse within the common jurisdiction of mining iconography, and mining is represented in an architecture of headframes and (modified) industrial sheds. On the other, mining assumes the mantle of monumentality, mostly romance and not much 'warts and all' realism. Yet, somewhat ironically, these distant relatives of Boullée's 18th century Cenotaph to Newton perhaps pay respect to all those who have sacrificed their lives in the mining line of duty.
The competition was held in one stage (although a second stage was an optional contingency); the desired outcome being an architectural commission awarded to the winner to develop, document, tender and administer the successful design, without major modification. It closed with 40 entries: 31 from Perth and nine from WA country areas and the eastern States.
Six schemes were selected by the jury to receive prizes.
The project commission was unanimously awarded to the scheme by Ahmad Abas and Paul Wakelam of RJ Ferguson & Associates, WA. Murray Etherington of Cox Howlett & Bailey, WA, received 1st Award
of Merit ($12,500) while 2nd Award of Merit ($7,500) went to James Stockwell and Peter Stutchbury of Stutchbury & Pape, NSW. Three Commendations ($2,500 each) were awarded respectively to Geoff Warn of Donaldson & Warn Architects, WA; Simon Rodrigues of Odden Rodrigues Architects, WA; and Jon King of Design King Company, NSW.
These six projects display a range of motifs commonly associated with mining.
Celebrating literally the industry's subterranean activities is Jon King's scheme for an organically inspired building: an upside-down cone spirals below ground beneath a giant copper parasol roof. Less overt is that by Simon Rodrigues; elegantly inclining in section and arcing in plan, heavily bermed on the south and glazed to the north. This tweaked shed considers carefully the internal/external planning relationships and addresses appropriately the small, low scale of the surrounding heritage precinct and environs. Geoff Warn's scheme also adopts the shed type; this version no more ubiquitous than that proposed by Rodrigues. Here a robust industrial architecture is tempered by cool motifs inherited from and adapted through a long lineage of international modernism. Industrial imagery and landmark scale are further employed by Murray Etherington to represent mining architecture; to immortalise technological heroism. As with Warn's proposal, a striking use of colour and graphics floats an isolated building upon a sureal desertscape-hot, flat and barren. Etherington's scheme, however, is formally more muscular; vigorously articulated by a series of dominating louvred stacks that modulate the trip to the Hall. This project most completely presents the building as machine, expressive of technical process and prowess.
A combination of sharp model photographs and loose line drawings describes the environmentally conscious scheme by James Stockwell and Peter Stutchbury. While its scale and detailing seem to draw upon the giant wheat bin precedent, there is also a slick urban sensibility associated with this proposition in which a sunken platform is braced by a pair of outward-facing skillion-shaped prisms, the larger with glazed billboard expression challenging the infinite horizontality of the surrounding sandscape.
The winning scheme by Ahmad Abas was found by the judges to present "a significant and strong character without resorting to false heroics or bombast". More successfully than the majority of entries, this one captures the scale and sets of relationships required of the project.
Abas has presented a complex of relatively modest buildings, favouring the collective rather than the singular approach. Familiar iconography and almost-vernacular sheds inform this proposal-corrugated iron, a 'stylised headframe' and lean-to verandahs provide an instantly identifiable landmark for the industry. Under burnt skies and with a patina of orange-gold hues, this scheme deftly conducts the romantic/realist mix and plunders the potential for mining architecture.
Kate Hislop is editor of The Architect (WA).
Model shots from Stutchbury & Pape.
Source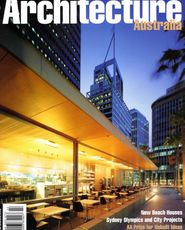 Archive
Published online: 1 Mar 1998
Words: Kate Hislop

Issue
Architecture Australia, March 1998
Related topics