The Australian Tapestry Workshop has announced the shortlisted designs for the 2018 Tapestry Design Prize for Architects (TDPA), the world's only international tapestry design competition for architects.
The prize invites architects to design a tapestry for a specific, hypothetical site. The site for the 2018 edition is an unbuilt monumental cenotaph for physicist Isaac Newton drawn by the French neoclassical architect Étienne-Louis Boullée in 1784.
The cenotaph proposal was the inspiration for the recently completed Pharos extension to the Museum of New and Old Art (MONA) in Hobart. Fender Katsalidis designed both buildings.
The competition brief, written by MONA founder David Walsh, notes that the tapestry, if produced, could potentially be hung on a wall in the Pharos wing, behind James Turrell's spherical, experiential artwork Unseen Seen.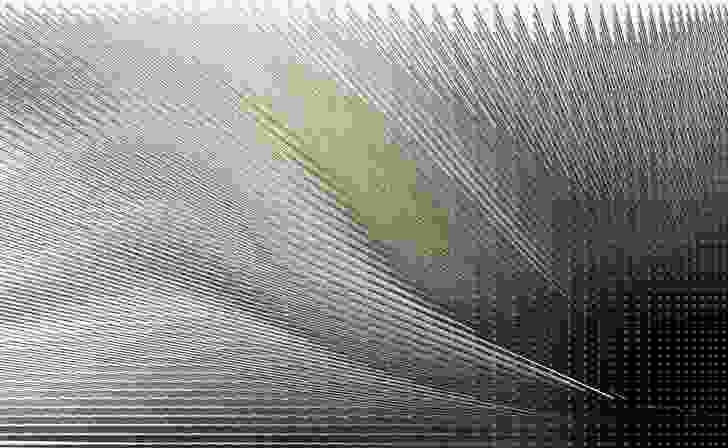 Nearly 100 entries were received, with roughly a quarter hailing from architects overseas. The entrants have interpreted the hypothetical site in a wide number of ways.
Grimshaw, for instance, has responded to the "implied gravitational pull and the control of light" of Boullée's cenotaph with a gravitational wave. "We wish for people to feel excited by the close observation of warm hands crafting a woolen picture of a massive quantum mechanical mystery," the architects said in a statement.
Conrad Gargett's entry, conversely, has pulled inspiration from the architectural tradition of Islamic houses of worship and MONA's "fascination with light and death" to create a kaleidoscopic field of skulls that would extend over the entire internal surface of the cenotaph's monumental dome.
Some of the shortlisted entries have taken a more critical approach in their interpretation of the brief. Arturo Muela, Paolo Ibarra and Daniela Gutiérrez take note of the "megalomania" of Boullée's work, with a proposal for a tapestry representation of an enormous eye – an "illustration of his desire for grandeur and power through design that would seem too complex or nearly impossible to put together, or in this case, be woven."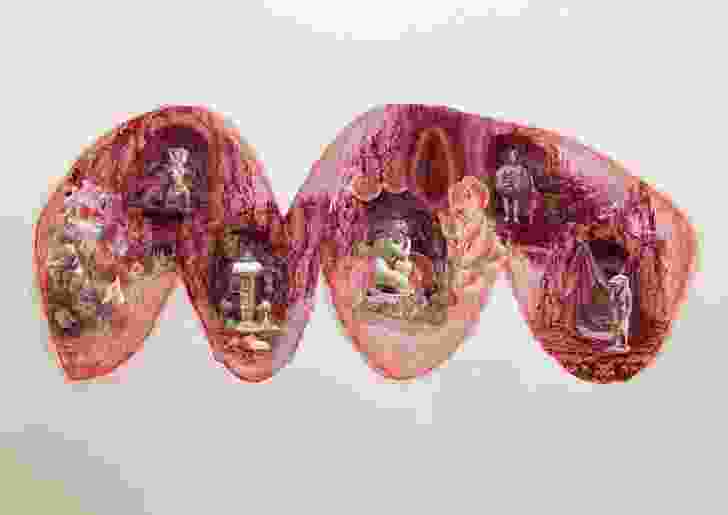 Similarly, a collaboration between Pop Architecture and the Hotham Street Ladies rails against "Boullée's sphere as an absolute and perfect symbol of Male Reason" with a tapestry featuring "potent symbols of female fertility and fecundity" that would "shroud the geometric purity of the sphere."
The TDPA 2018 is a partnership between the Australian Tapestry Workshop, MONA, Tapestry Foundation of Australia and Architecture Media, publisher of ArchitectureAU.
A $5,000 award will go to the first prize winner, $2,500 for second prize, $1,500 for third prize and $1,000 for people's choice.
The winners will be announced on 16 August along with an exhibition of the finalists' designs.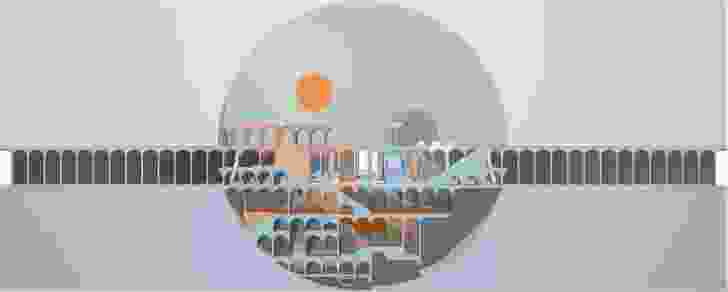 The 2018 shortlisted architects are:
3RDRM – Architectural Fragments in the Shadow of Boullée
Aaron Fein – Polaris
Arturo Muela, Paola Ibarra and Daniela Gutiérrez – Colliding Universes in Saint Peter's Four Meter Woolen Eye
Conrad Gargett – Memento Mori. Remember You Must Die
Grimshaw – Looking into the Face of God
Kenneth Wong – Naked Wonder
Kevin Liu – After Turrell, Backside of the Moon
Nicholas Miller – Warped Fragments of an Ethereal Nature
Pop Architecture with Hotham Street Ladies – Chaos and Fertility
Qing Ye – Nature
Retallack Thompson – Through to More
SAA. Studio Adrian Aguirre – Delirious Landscape
Sebastian Gatz – Interval
Thingsmatter – Gravity Flower
Toby Beale, Stephen Brameld, Sally Farrah and Tasmin Vivian-Williams – Private Monument
Related topics