Let me take you to Darwin. For most readers, this will conjure something exotic in the mind, somewhere between the high-vis population of a mine site and the delights of tropical Singapore. Darwin is "up there," inhabited by a bunch of crocodiles who engage in hand-to-jaw combat with the frequently bearded and often just as fierce fisherfolk. The myths of the north are almost as playfully combative as the front pages of the NT News.
As well perhaps they should be, but this mostly imagined reputation belies the importance of Australia's northernmost capital city. Darwin maintains a strategic military presence in the regional geopolitical positioning of Australia, the influence and importance of which continue to this day. With a strong military presence comes a large military population of transient service personnel and their families. This is the origin of Tropology for DHA by Troppo Architects. The practice was commissioned by Defence Housing Australia to design new accommodation for defence personnel in one of Darwin's newest suburbs, Muirhead.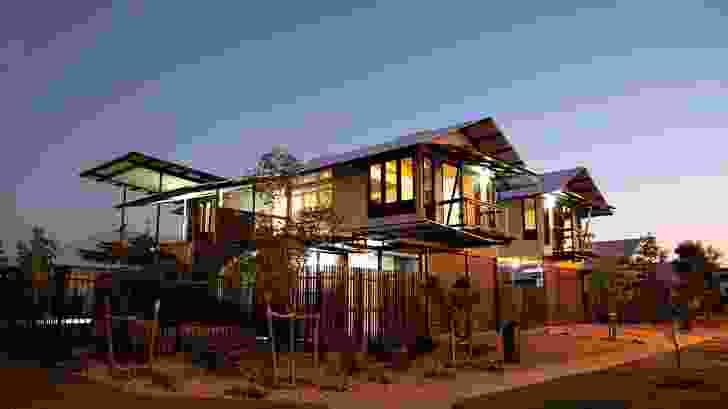 In a way, this is where the association with the local context ends, for it is difficult to describe just how greatly Troppo's design response – a compact, climatically appropriate duplex – differs from the prevailing market offering. This project challenges the culture of housing in Darwin and is testament to a committed client who championed the building of local identity into the project. As a prototype, it is a piece of built advocacy.
Darwin is a young city, both in respect of the median age of its population (the youngest capital city in Australia)1 and in its approach to urban development, and there are choices that await for a city that looks to become Australia's gateway to Asia. The Territory's planning framework, for example, is less well evolved than other jurisdictions in Australia. With a population of less than 150,000, Darwin is more like a sprawling town than a compact capital. Its population density is the lowest of any capital city in Australia.2 It may seem strange to many southerners, but the idea that there might be more than one dwelling on a residential lot is still a topic of conversation – consternation even – with the idea of dual occupancy on a single-dwelling-zoned, 1,000-square-metre lot portrayed by some as a threat to the "Territory lifestyle."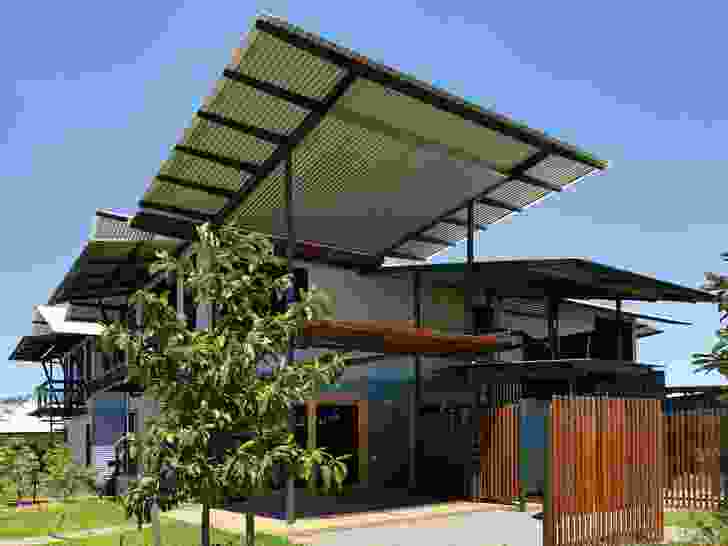 In contrast, this project offers two dwellings where one would normally stand. It is neither expensive (delivered for well less than $3,000 per square metre in high-build-cost Darwin) nor land-intensive (at 667 square metres, this site is an even smaller parcel than the community-rejected threshold for dual occupancy, in high-land-value Darwin). The result is energy-efficient, compact yet spacious, affordable housing.
This project also challenges its immediate physical context: a planned community under design guidelines.3 It is situated within an everyday network of featureless streets with wide verges, little vegetation and new building stock that might have been transplanted from the outer suburbs of Sydney or Melbourne – largely rendered block with screened airconditioning units to the side. Perhaps the only discernible difference is that these buildings are mostly light in colour and almost exclusively have large, white, heat-reflective roofs with a slightly more pronounced eave.
Troppo took the design guidelines and conjured something quite different. Its planning is thin, compact and reminiscent of the elevated stock that typifies earlier periods in Darwin's architectural history: such dwellings are double-storey instead of the prevailing single-floor type of new planned estate Darwin. Troppo's living areas are at ground level, self-shaded by locating sleeping areas above, the protrusion of which on the street frontage provides cover for the carport below, to the blissful abrogation of that great destroyer of human engagement with the street, the garage door.
Core spaces are effectively insulated by a layer of space the width of the plan, and assisted by the typical and well-practised deployment of so much of the repertoire of Troppo techniques and devices: shade screens, layered roofs, big eaves, awnings, big-hat-tied-down. The extended roofline provides a series of habitable spaces around the building, the use of which might vary with the time of day. Stairs are located external to the body of the plan, as are day beds and double-height spaces, all exposed for maximum natural ventilation.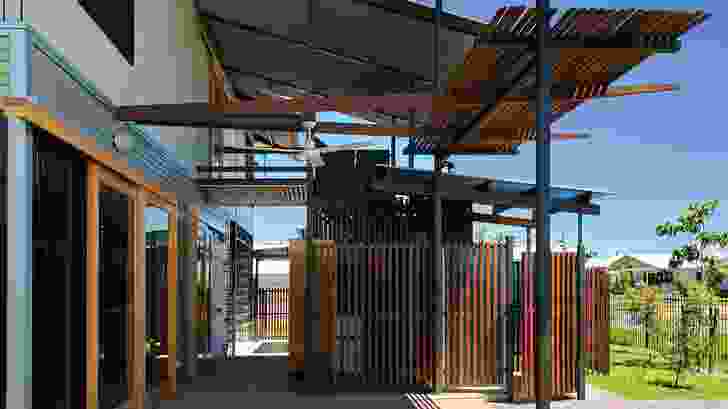 The roof is the obvious (and necessary) architectural statement. Troppo describes it as a "big hat," but I think the response is more elegant than that. In another challenge, this time to the preponderance of heavy-eaved buildings in Darwin, here is the sense of a bird in flight. I am reminded of the black kites that float above the Nightcliff and Casuarina foreshores, the flicking feathers at the tips of their wings mimicked in the various awnings and lean-tos of the rolling roofline.
With the aesthetic comes another challenge: a departure from brick-and-block-dominated Darwin, whose building psychology has not yet fully recovered from Cyclone Tracy. This project is all lightweight from the outside – it might be a tent, or a bivouac, the slender black supports not columns, but guy ropes. It feels temporary, even though it is not.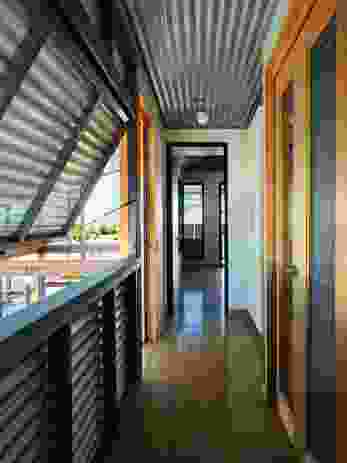 Even in the naming of this project there is a challenge. According to the developer, it is the "Asche Duplex." Troppo, on the other hand, has ascribed the title "Tropology for DHA." Tropology is a figurative term, perhaps the least expected of approaches for a client such as Defence. It is an unorthodox association, yet here perhaps is the lesson: in opening ourselves to challenge – to the new, the unfamiliar, even the uncomfortable – our minds can be turned, perhaps not to what we want, but what we need.
One of my measures for the quality of a work is its capacity to change and shape culture. To the "Territory lifestyle" this prototype for living is no threat, but rather a hint at its salvation. But like any saving work, it must be accepted to achieve its full promise.
1. The Australian Bureau of Statistics, "3235.0 – Population by Age and Sex, Regions of Australia, 2016," 28 August 2017, abs.gov.au/ausstats/abs@.nsf/mf/3235.0
2. Population Australia website, "Darwin Population 2018," population.net.au/darwin-population/
3. Defence Housing Australia, "Breezes Muirhead: Design Guidelines 2016," breezesmuirhead.com.au/sites/default/files/page/downloads/Breezes%20Muirhead%20Design%20Guidelines.pdf
Disclaimer:
Joshua Morrin is Executive Director, NSW of the Australian Institute of Architects and lived in Darwin from 2015 to 2016. The views expressed in this project review are his own.
Credits
Architect

Troppo Architects
Australia
Project Team

Phil Harris, Jo Best, Ryan Horsnell
Consultants

Builder PTM Group
Building surveyor Tecon Australia
Engineer JWS
Town planner Northern Planning Consultants

Site Details

Location Darwin, NT, Australia
Site type Suburban

Project Details

Status Built
Completion date 2016
Category Residential
Type Multi-residential

Source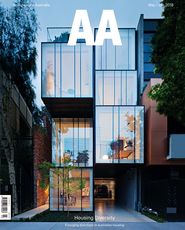 Project
Published online: 21 Aug 2018
Words: Joshua Morrin
Images: Courtesy Defence Housing Australia, Courtesy Troppo Architects
Issue
Architecture Australia, May 2018