Jury citation
Here is an architect/builder/inventor and an interior innovator at their combined best. The Planchonella House in Cairns is not constrained by climatic concerns or by a client who might have had differing design aspirations. It has a consistency throughout. Its most persuasive attitude is its invention and directed playfulness. As architect and builder Jesse Bennett informed us on site, "The form of the house evolved out of planning the internal relationships." This house was not formed from a singular concept but from an evolving set of often opposite relationships: open to closed container, concrete upper to concrete lower slab, concrete to glass, timber framing to metal framing, air to solid, planar to curved. The house often appears raw because of the directness of its materials but it is highly sophisticated and inventive in its detailing. The combination is surprising and confident and it is this that sets this house apart.
The Planchonella House also belongs to its place. The rear northern courtyard sets the datum for the large amoebic living platform. This courtyard, with its spongy carpet of green grass, is a northern harbour while the house proper occupies a southern viewing platform. With arms extending north and east, enjoying the calm lawn that faces upwards to the mountain and rainforest, the house focuses on the south, the long view and long drop of the impossibly steep site. It is to the south that the curvaceous edge of the two concrete slabs – floor and roof – are most wonderfully linked by the play of glazed vertical panels, framing the view in rosewood, then floating in frameless glass. The fine black silicon lines of glass panelling joints are reminiscent of seamed hosiery. The joy of living is embraced at every viewpoint.
Detailing is never taken for granted. Every moment is an opportunity for a new analysis and a fresh invention. Glass sliding door mechanisms have been rethought, designed and cast; the thick bookshelf wall – lined with books on one side and black upholstered silk on the other side – has a long rosewood crafted handle that allows one to enter the inner sanctum and close out the public realm. It opens with a simple pivot. There's a "femme fatale" wardrobe that is a shop setting out of Sex and the Single Girl . The steel frames that support the stair treads also become the balustrade frames of steel to echo the frames of rosewood windows. All the furniture – like this house – has been designed to fit or echo relationships of harmony and surprise.
Read the project review by Shaneen Fantin from Houses issue 104.
Products and materials
Roofing

Concrete; roof garden.
External walls

Adbri Versaloc interlocking blocks and lightweight brick; concrete cement render.
Windows

Glazing from Glasstech; all windows designed, fabricated and built by Jesse Bennett Architect.
Doors

All custom designed and crafted on site.
Flooring

Burnished concrete.
Lighting

Verner Panton Flowerpot pendant lights; Jonathan Adler chandelier light; pendants from Angelucci; custom globe pendants with recessed detail in concrete.
Kitchen

Smeg Fab 28 fridge in pink, Newson range oven in 'Pistachio', dishwashers and induction cooktop; Franke sinks; KWC Ono Highflex Mixer.
Bathroom

Gessi bathroomware; Academy Tiles Dot tiles.
Other

Custom systems, detailing and furniture throughout; Kai Kristiansen No. 42 dining chairs from Angelucci, recovered in Warwick fabric; Coco Republic Webb bar stools, recovered.
Credits
Architect

Jesse Bennett Architect
Cairns, Qld, Australia
Project Team

Jesse Bennett (architect and builder); Anne-Marie Bennett (interior designer)
Consultants

Builder Jesse Bennett
Engineer Kel Bruce Engineers
Interiors Anne-Marie Bennett
Structural consultant Kel Bruce Engineers

Site Details

Location Cairns, Qld, Australia
Site type Rural
Site area 4818 m2
Building area 280 m2

Project Details

Status Built
Design, documentation 3 months
Construction 36 months
Category Residential
Type New houses

Source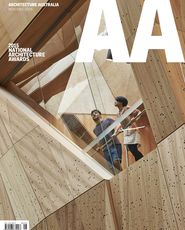 Issue
Architecture Australia, November 2015
Related topics