JURY CITATION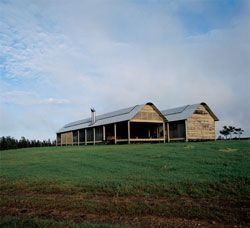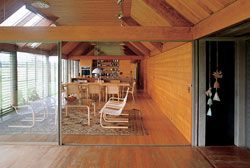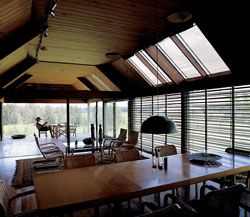 Built as the Marie Short farmhouse and completed in 1975, this building is unusual because it was purchased by its architect in 1980. It then underwent a substantial linear extension to suit its new owners, but little or nothing has been done to the house since that time.
Glenn Murcutt describes the house as a watershed in his career. It is therefore seminal to the development of contemporary Australian housing. This house was not only the model for Murcutt's development of a set of architectural ideas but is also an icon which enthused other architects, both in Australia and abroad. The principles driving the forms in this house are seen over and over again, not least in Murcutt's Mt Irvine houses, which were the first recipients of the Robin Boyd Award in 1981.
While the design is in some ways derivative, the rigour of its construction logic and the lucidity of its planning are lyrical. This rigour is especially evident in the layering of its external skin. Composed entirely of a series of louvres, blinds and flywire, the external walls are strong yet delicate, consistent yet variable, practical yet playful. Through these devices occupants can manually control the interior environment like a highly tuned musical instrument. It allows an engagement with every aspect of the environment in a most joyous and celebratory way.
The siting of the house is a masterstroke.
The long perspective of the approach across farmland is engaging and uses time-honoured techniques in their simplest forms to heighten one's sense of arrival. Not until the building is reached is it obvious that it commands a grassy knoll that overlooks a bucolic landscape of truly Australian style. Other buildings which form the farm complex do not intrude and seem to be in perfect harmony.
The house is an exposition of the use of timber. The Miesian-derived external expression of the frame lifting the house above the ground is executed in timber rather than steel. Throughout the house, timber dominates the structure, the linings and the joinery. Each element uses species which are best suited to their particular purpose. All of the timber both inside and out has weathered gracefully; the timber, literally untouched for almost thirty years, glows in the sunlight.
The Kempsey farmhouse predates the RAIA national awards by several years. In its day it received the Blacket and Wilkinson Awards in New South Wales and set the future career path of one of Australia's most significant architects. It is especially valuable that this award can be given to an architect who is still practising and who personally calls this building home.
Image: Anthony Browell
Credits
Architect

Glenn Murcutt Architect

Consultants

Builder R. M. Brenton
Engineer E. R. Taylor

Site Details
Project Details

Status Built
Category Residential
Type New houses

Related topics