JURY CITATION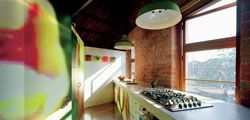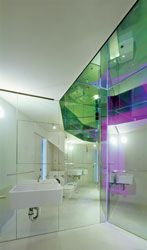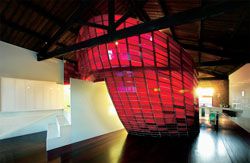 Chameleon occupies a warehouse shell of the former Allens Sweets factory. A heritage overlay meant that the exterior of the warehouse could not be altered. The volume of the warehouse space has been maintained, with variously formed objects inserted within.
Living accommodation is provided above a studio office. The design is experienced as a journey beginning at street level, spiralling upwards and culminating in a rooftop deck.
The dominant ordering element is a large, [nobr]ruby-coloured[/nobr], [nobr]boat-shaped[/nobr] form "floating" in the space. This is clad in hundreds of individual reptilian-patterned glass panels fixed to a principal steel framework. The form glows red at night and is a reference to the sweet factory as well as recalling the family heirlooms of the client.
This element sets up an obtuse and engaging geometry in the insertion of the new works. Mirrors and semitransparent magenta and green coloured glass are then used to fracture this geometry and complicate spatial perceptions.
The experience of the space is heightened by carefully controlled sequencing, with a variety of destinations and viewing locations provided within the main warehouse volume.
The stairs change direction and vary in width, generating varying vistas between the entrance door and the roof terrace. The spatial experience also changes according to the levels of artificial and natural light. Combined with carefully placed fusion laminate wall lining, customized with super graphic images of the client as a five-year-old, this challenges the sense of scale and normal expectations about the hierarchy of typical domestic space.
The architect has carefully resisted portraying the single original space common in warehouse conversions, but rather seeks to represent and reinterpret the space by infusing it with a complex geometry, linking it with the memory and personality of the new owner. This project represents an important architectural contribution both to working within existing buildings and to the skilful representation of contemporary domestic space.
Project Credits
CHAMELEON
Architect Cassandra Complex.
Structural consultant Peter Dalgleish. Lighting consultant Richmond Lighting.
Builder James Healey and Richie Downie. Planner City of Melbourne—Mary Hoffmann. Building surveyor Philip Chun and Associates.
Photographer John Gollings.