Sydney-based architecture practice Redgen Mathieson has combined the luxury of black with the simplicity of white in its design of the Burbury Hotel in Canberra. Situated in inner-city Barton, just outside the Parliamentary Triangle, the Burbury Hotel is the latest addition to a mixed-use complex of buildings owned by the Doma Group, with base building architecture by Colin Stewart. This means that the Burbury is part of a new hub that includes small shops, businesses, restaurants and the Hotel Realm, also owned by Doma, across the road.
The hotel is aimed at corporate travellers who are visiting Parliament, and the intention was to create an environment that is timeless and grown up, using classic design and a straightforward palette. This is not a youth-oriented hotel full of quirky elements, nor is it a party spot or a place for a relaxing spa weekend. It is simple and elegant, with extra amenities like a spa, hairdresser and health club available at the nearby Hotel Realm.
KRM has hit the right note. There are no gimmicks. It's not flashy. The references are to Citterio and other masters of contemporary Italian minimalist design. "It's not supposed to be a boutique hotel where all the groovers are coming," explains Harlan Redgen of Redgen Mathieson. "It's not a hot-pink-carpet-and-kooky-chairs kind of place. Calm and understated is the vibe."
Of course, the key to getting minimalist design right is attention to detail, and that's the secret of this interior. Much of the furniture – tables, chairs, desks – was designed by Redgen Mathieson and built to their specifications. In reception, charcoal black panelled walls are juxtaposed with white Gohera limestone flooring. The reception desk, in black granite, was brought forward so that the bathrooms could be hidden behind for a simple, seamless look. The staircase was also moved to create geometric order and balance.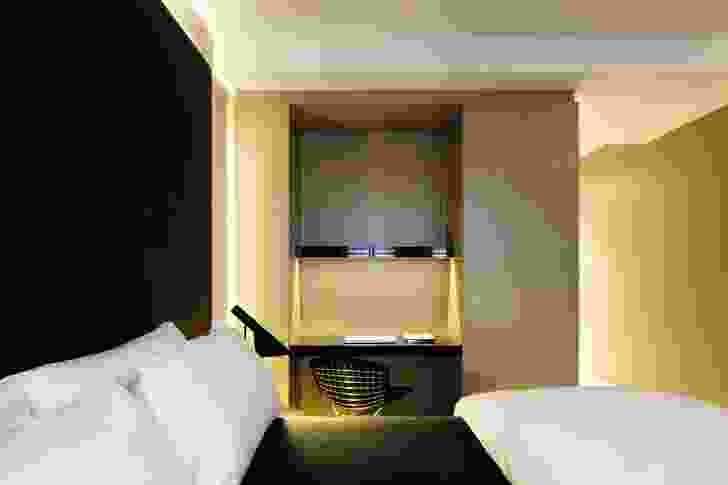 Even the logo, with graphic design by Swell Design Group, is elegant. It has been used at strategic points – above head on the facade, at the lifts – but always sensitively placed to create an element that relates to the architecture.
Everywhere, drama is created through black surfaces and hidden lighting, but these are practical measures built in, too. The hallways that lead to the rooms are simply painted black, with a geometric black-and-white striped custom carpet. Glass backlit panels next to each room provide signage and light, as well as being a durable finish to withstand scratches caused by suitcases going through the doorways.
In the rooms, again the palette is black and white, with the same carpet used but this time featuring a series of geometries and symbols custom designed by Redgen Mathieson. Here, perhaps the key innovation is the insertion of a unit that contains the desk, bench, mini bar and cupboards. Made off-shore and encompassing all of the joinery elements required for a hotel room like a kit of parts, it is a uniform size that can be used in any size room, and also serves as a room divider between bedroom and bathroom.
Key details have been incorporated into the walls and ceiling of the rooms. Huge black fabric panels cover the walls, serving the purpose of decoration, but also hiding cables for the television on one side and acting as a bedhead on the other. Lights are also hidden behind these panels, creating a gentle glow. On the end wall, windows are covered in white shutters. Meanwhile, the ceiling has been raised and lowered, demarcating the bedroom, services and bathroom areas to create an architectural detail that is not necessary, but adds so much. "It seems like nothing, but it's a pretty big deal. People think you're crazy when you put them forward, but those little things make a huge difference. The ceiling creates a rhythm in the rooms, it makes the ceiling feel more crisp and makes the shutters pop," says Redgen.
On the top floor of the building is the Burbury terrace, a rooftop function space in the signature black of the hotel. It can be accessed a number of ways: from the lift, through a small kitchen with coffee-making facilities, or via a series of small dramatic rooms with curved walls in white mosaic. Thanks to this, as well as operable walls in the large open dining area, it is possible to set up this floor in a number of different ways, for functions, private dining or as a lounge/breakfast room in the daytime. In their design of the Burbury Hotel, Redgen Mathieson has combined a clear design vision with an intelligent approach to problem solving on a tight budget, without compromising on details.
Products and materials
Walls

Gohera limestone tiles in lobby. Plasterboard walls in rooms painted in Dulux Mud Pack low sheen acrylic. Dark olive fabric wall panels. Routed MDF wall panels and corridors in lobby and terrace painted Dulux black matt. White glazed mosaic tiles in terrace.
Windows

White aluminium sliding plantation shutters in rooms from Chernway. Motorized black aluminium venetian blinds on terrace.
Flooring

Gohera Limestone tiles to lobby and bathrooms. Custom patterned carpet in rooms and corridors designed by KRM, made by Feltex. Floor tiles in terrace are Slimtech Basaltina Stone Project from Lea Ceramiche. Carpet is Sussex by Godfrey Hirst.
Lighting

Concealed LED strip lighting to desk pelmet and fabric wall panels in rooms. Circular recessed downlights and backlit custom door numbering panels in corridors.
Furniture

Custom reception desk in black Absolute Granite. Lobby and terrace custom side chairs upholstered in Armour, Warwick Fabrics. Lobby custom side tables with black powdercoated frames and black granite top. Custom leather banquettes in black leather, with black granite backing. In rooms, custom bedside tables with timber veneer from Greenwood Veneers. Glazed ceramic Chinese drums, black.
Joinery

Seashell timber veneer from Greenwood to wardrobe joinery. Black Absolute granite desktop to built-in desk unit.
Bathrooms

Custom-designed vanity unit with black powdercoated steel base and Black Absolute Granite benchtop with undermounted basin. Gohera limestone tiles to walls and floor. Translucent glass shower screens and door.
Artwork

Lobby artworks One Tree and Kittens by Paul Ogier.
Credits
Design practice

Redgen Mathieson
Sydney, NSW, Australia
Project Team

Harlan Redgen, Sarah Blacker, David Katon
Consultants

Acoustics SLR Consulting
Base building architect Colin Stewart Architects
Builder The Doma Group, Bloch Developments
Electrical services Fredon
Fire services Norman Disney Young
Graphic design Swell Design Group
Hydraulic engineer Tennant Hydraulic Consulting Services
Landscape Harris Hobbs Landscapes
Mechanical services N & J Dahl
Project manager The Doma Group
Structural engineer AWT Consulting Engineers

Site Details

Location 1 Burbury Close, Barton, Canberra, ACT, Australia
Site type Urban

Project Details

Status Built
Completion date 2011
Design, documentation 8 months
Construction 18 months
Category Hospitality, Interiors

Source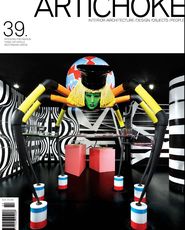 Issue
Artichoke, June 2012
Related topics