There's an oasis in Perth – it is a restaurant called Greenhouse. A partnership between artist and designer Joost Bakker, restaurateur and barista Jason Chan, and restaurateur Paul Aron, it's based on the temporary structure of the same name Bakker previously created in Melbourne's Federation Square (see Artichoke 26). You'll find Perth's more permanent (and, for Bakker, more successful) version outside Enex100, an agreeable new retail and food hall development that unites Perth's commercial heart, the Hay Street Mall, with the financial district of St Georges Terrace. In relation to Enex100's airconditioned airport vibe, Greenhouse's potted-strawberry surface is market fresh. So is the interior. Yet it is not just the surprise city greenery that sets it apart, it is the way Greenhouse occupies its space and the ethics of that occupation.
Scrupulously pragmatic in design and devoid of archi-tectural heroics, Greenhouse is a deftly unpretentious, restful, modest, self-renewing (on account of the organic exterior) platform for eating and drinking. A steel-framed, plywood-clad, straw-insulated structure, it neighbours a late-nineteenth-century redbrick church and the sloped promenade to Enex100's basement Woolworths. A few metres from the entrance is a takeaway coffee nook with a relatively constant, but un-daunting, line. Inside, there is a high-tabled eating area, a bar and a visible working kitchen. Upstairs is another bar, serving coffee as well as alcohol, bordered by herbs and vegetables in worm-rich soil. There's also a small, kitchen-level outdoor eating area extending towards St Georges Terrace.
The simplicity of the structure is based on a desire to assemble – and dismantle, should the need arise – with the minimum of financial and energy expenditure. This is central to Bakker's design philosophy. He wants Greenhouse to be harmless and its eco-impact to be positive. Taking this very seriously, he shows mind-blowing attention to recyclable detail. Each component of the building – from the glasses made from used beer bottles to the use of galvanized steel screws for their ease of recycling – is a testament to years of intricate knowledge development and the cultivation of the personal, micro-networks necessary to support positive-impact building.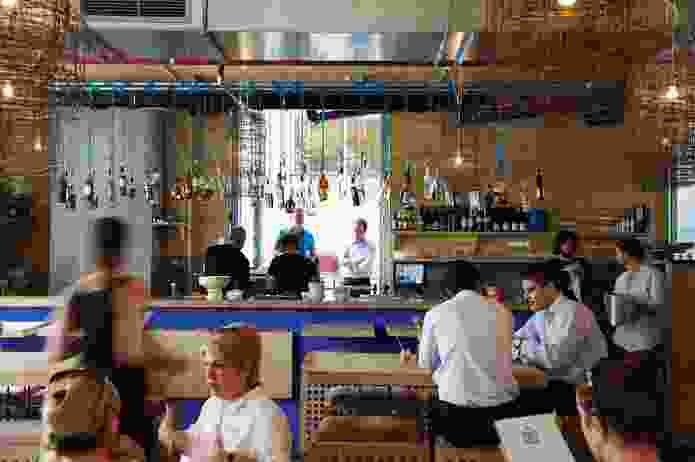 As vague as this might sound, this background imbues Greenhouse with the palpable sense that it is formed from layers of goodwill and spirit. The intimate ethics of this is supported in the kitchen, where bread is made from grain milled on the premises, produce is sourced locally and there is an unaffected style of presentation – the spicy gazpacho, for example, was served in a jar. Like the soup, the experience of being within this food space is wholesome in a refreshingly light way.
That the platform for this engagement with sustainable living and building is blocked into a slope, about 1.2 metres below street level, is important. As the Greenhouse ethos is ingested, the legs of office workers parade by. You can see and are seen, but don't feel exposed. On the contrary, Greenhouse's physical in-between nature fashions an intimacy previously absent from the city, allowing a feeling of shielded togetherness that transcends Perth's tendency to the bleakly panoptical. The roof area acts in a similar way. You are not seated so far above the street as to feel dominating or removed. Instead, you're connected: you welcome the dampened wind cushioning your body as you casually take in Terrace life, cocktail in hand, smile on face.
On every level (literal and philosophical), Greenhouse enriches the experience of being within the city. This is a neat achievement in a place that has traditionally made genuine (temporary and long-term) habitation and "city life" an impossible dream. To feel that you are actually embedded in something positive, something light, something real, as you nestle into the city is bliss. Perth needs this oasis.
Products and materials
Flooring and windows

Viridian double-glazed glass. Rooftop floor made from recyclable Atlantis Flooring plastic.
Walls and ceilings

Rollformed BlueScope steel. Straw bales. Carter Holt ply.
Lighting

Queen B beeswax candles. Joost Bakker lightshades. Parus LED grow lights.
Kitchen and bathrooms

Plaspanel splashbacks, sinks and benches. Caroma Profile 5 toilet suite with integrated hand basin. Caroma Zero2 urinals and tapware.
Furniture

Recycled waferboard chairs and plywood tables. Courtyard chairs made from street signs. Courtyard tables made from street-side fire hydrant covers. Merbau timber rooftop stools built for an Opera Australia performance, upholstered in Hard Yakka vinyl billboard signage.
Credits
Design practice

Liquid Lines
Melbourne, Vic, Australia
Project Team

Joost Bakker, Trent Alexander, Georgina O'Connor, Elida De Felice
Design practice

Fitt De Felice Architects
Melbourne, Vic, Australia
Consultants

Artworks David Bromley
Builder Liquid Lines
Building system Aus Build-Tech using Framecad systems
Graphic design Studio Pip & Co
Landscaping Joost Bakker and Greg Palmer
Structural engineer Tim Gibney and Associates

Site details

Location Perth, WA, Australia
Category Interiors
Type Bars and cafes, Restaurants

Project Details

Status Built

Source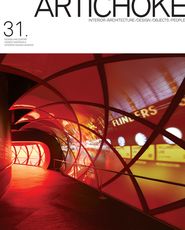 Issue
Artichoke, June 2010
Related topics